Version: 2022
Logs, analysis, and notifications
Introduction to logs, analysis, and notifications​
menu Analysis
In menu Analysis, the following items are available:
Session log - an overview of all sessions for all users.
Two-factor log - an overview of the use of two-factor authentication for all users.
Session analysis - a pivot table to analyze all user sessions.
Action analysis - a pivot table to analyze all actions.
Recommendations
Scheduled system flows - see System flows.
Notifications - push notifications to users. See Notifications in this manual.
Notifications​
Universal GUI
You can push notifications to users in two ways:
This tab shows active notifications for both types:
menu Analysis > Notifications > tab Notifications
Pending notifications remain visible until they have been shown to the user or until their expiration date.
You can set the number of expired or sent notifications that should remain visible in menu Settings > Global settings > group User > field Notification retention (items). Deselect prefilter Pending to see those.
In addition, you can add, edit and delete notifications that should be sent to a user without a system flow. Indicium uses the required data to send the notification to the specified user as soon as they are logged in.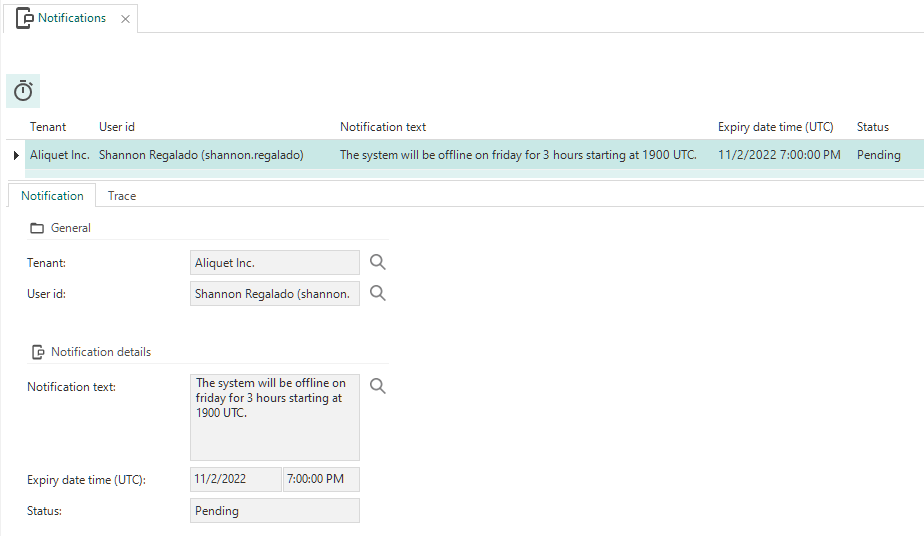 Example notification